Contact Us Today to Update for Voice Search
88.5% of patients switching dentists use Google when conducting internet searches, according to 2016 Audience Scan research.
Contact Us Today To Request A Free Demo
Google My Business
SEO Optimized Business Description (Began rolling out in March 2018 and was absent from prior Google Maps business listings)
Ability to list Practice Specialties, each with a 1000 character description
Additional Image & Video Uploads
Google Insights integration into monthly SEO reporting providing detail on mobile search, phone calls, direction requests and much more
Apple Maps

Now integrates with Siri Voice Assistant

iPhones
Apple Computers
iPads
Apple Watch
Apple CarPlay
Apple TV

New Claim & Phone verification procedures
Exterior Photos (now required to verify business ownership)
Yelp
Optimized content of specialty services, a personalized history of the business and meet the business owner section
Check-in Offers
Features & Amenities of the business
Service area city feature
Bing
Update and transition to a Business Listing, rather than a Doctor Page
Update of any Low-Confidence Listing Alerts
Local SEO Changes
These changes in Local SEO are in part due to the most recent Google algorithm updates which occur on a regular (over 400 times per year) but unannounced basis. Google Algorithm Change reference
These citation updates will:
Add optimized content to help web and citation crawlers provide higher rankings
Provide increased rich content, which when properly loaded into your profiles have the ability to deliver an increased opportunity for customers to interact within your business listings (a Google ranking signal)
Your information will continue to be routinely reported and ranked based on the amount of consistent and accurate information.
Our process also adds an additional 5-20 citations depending on your geographic area
VEO (Voice Engine Optimization)
Most importantly, when we first worked on your project VEO (Voice Engine Optimization) did NOT exist! Now, however, VEO is rapidly changing the local search landscape and Google's Artificial Intelligence Algorithm which will eventually replace the current math based algorithm to take advantage of voice-based search queries.
Voice search is growing exponentially and will radically change the SEO environment in the coming years. VEO compliance is critically important in order to establish your presence in the various voice search engines, which are in large part reliant on the trusted information of local citation sites which provide your business information when a voice search is conducted. Our process establishes your Voice Search presence on Amazon Alexa, Bixby, Google Cortana, Google Home or Apple Siri. This link will provide more information on why this is so important to your practice – Voice Search for Local Business
Contact Us Today To Request A Free Demo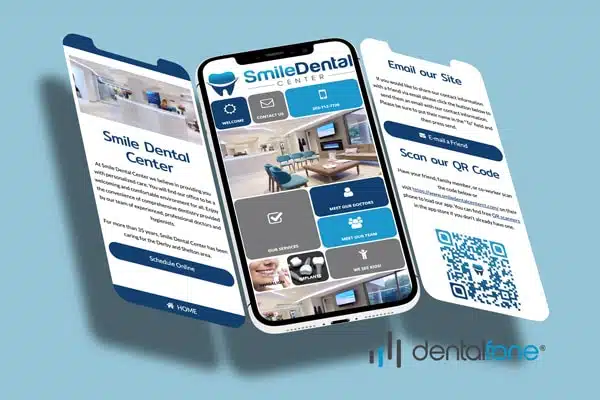 Dentalfone's Hybrid-Responsive™ technology combines our acclaimed app-like interface on smartphones and tablets.
Superior "App-Like" Mobile Interface
Dentalfone websites provide superior mobile functionality to help you generate more new patients, more appointments, and more happy reviews.
A typical responsive website will automatically change the layout to adjust to the screen size of the device you are using (desktop, tablet, and smartphone).
Dentalfone's Hybrid-Responsive™ technology combines our acclaimed app-like interface on smartphones and tablets.
And on desktops, we provide a very engaging, high-end, video-based website experience.
No matter what device your patient uses, they'll see you exactly the way you want them to see you. You'll look amazing on mobile devices and equally amazing on desktop computers.
What Our Clients Are Saying…


"I've Seen a Tremendous Increase."
- Andrew Sami
"I can't recommend Dentalfone and Robert enough for anyone seeking to enhance their website's visibility and patient/customer outreach. I've been working with Dentalfone, and Robert personally to both create attractive web applications and maximum website exposure via SEO. Robert is extremely personable and knowledgeable and will go the extra mile to help you achieve your goals. In the past 12 months since I've been working with him, I've seen a tremendous increase in patient referrals from the internet thanks to the many different strategies he has employed for my website. If you're looking for a quality company for your website and application needs, you should seek out Dentalfone and Robert's services first."
"We Have Never Had a Better Client Experience."

- Cathy Parlitsis
"Robert is extremely knowledgeable regarding all aspects of digital marketing and SEO. He expertly and painlessly guided us through a full integration of our online branding and strategy achieving measurable results almost immediately. Additionally, Robert was able to analyze and identify all areas where we needed to improve our online presence and worked seamlessly with our web developers.
I highly recommend Robert and his team. I can honestly say we have never had a better client experience."
"You're Treated As If You're the Only Client."
- Jennifer Stachel Van Whiting
"I can't speak highly enough about Robert. He knows his stuff. Regarding SEO, I definitely recommend him. He won't let you down. He is knowledgeable and innovative. My business is in NYC which is extremely competitive, and he constantly improves and tries new strategies to increase my rankings. Moreover, he is very personable, works to achieve your individual goals and in general, is great to work with. He is persistent, diligent and dedicated. He treats you as if you are his only client although he has many. As his client, he definitely strives to satisfy your SEO goals."