Contact Us Today to Get Your FREE Google Visbility Analysis
88.5% of patients switching dentists use Google when conducting internet searches, according to 2016 Audience Scan research.
Contact Us Today To Request A Free Demo
How does your website rank?

If you're frustrated that your website isn't showing up at the top of Google's search results when prospective patients are searching for a dentist in your area, we can help.
Learn what's holding your practice back from first-page Google rankings, and how we can help you attract more patients every month.
Why use Dentalfone for your Search Engine Optimization?
We work with dentists. That's what we do! We're the dental marketing experts.
We'll build a premium, custom website that helps elevate your online image
We'll help your practice get found on Google and other Search Engines
Our professional videographers will ensure your practice shines
Our "app-like" mobile views elevate your practice image
We Specialize in SEO for Dentists
The truth of the matter is that SEO is no longer just optimizing your website. Why? Because correct local SEO requires both the On-Page and Off-Page technical and creative elements that are required to improve rankings, drive traffic, and increase search engines awareness of your practice, at the Local level.
Dentalfone's SEO services are all about understanding the recipe for online success, measuring the results, and calculating an ROI that that measures your practices digital performance and the financial efficiency of your investment.
With Google using more than 200 ranking factors when evaluating your online presence, our job is to select the best and most cost effective ingredients to complete your recipe! Most people are aware of their credit score. As a business owner, are you aware of your SEO score and how you compare to your closest competitors? Do you understand how Google perceives your brand?
Contact Us Today To Request A Free Demo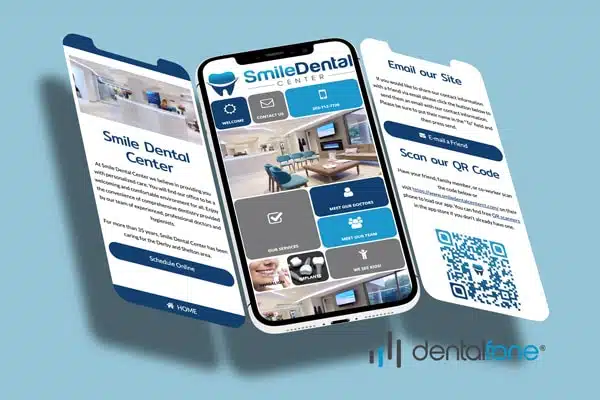 Dentalfone's Hybrid-Responsive™ technology combines our acclaimed app-like interface on smartphones and tablets.
We Build SEO-Friendly Dental Websites
All of our websites are built for SEO, and they're fully-responsive so they can be viewed on computers, tablets and smartphones.
Let us help you brand your practice as the progressive, cutting edge dental practice that it is.
Below are just a few samples of websites we have created for our clients.
What Our Clients Are Saying…


"I've Seen a Tremendous Increase."
- Andrew Sami
"I can't recommend Dentalfone and Robert enough for anyone seeking to enhance their website's visibility and patient/customer outreach. I've been working with Dentalfone, and Robert personally to both create attractive web applications and maximum website exposure via SEO. Robert is extremely personable and knowledgeable and will go the extra mile to help you achieve your goals. In the past 12 months since I've been working with him, I've seen a tremendous increase in patient referrals from the internet thanks to the many different strategies he has employed for my website. If you're looking for a quality company for your website and application needs, you should seek out Dentalfone and Robert's services first."
"We Have Never Had a Better Client Experience."

- Cathy Parlitsis
"Robert is extremely knowledgeable regarding all aspects of digital marketing and SEO. He expertly and painlessly guided us through a full integration of our online branding and strategy achieving measurable results almost immediately. Additionally, Robert was able to analyze and identify all areas where we needed to improve our online presence and worked seamlessly with our web developers.
I highly recommend Robert and his team. I can honestly say we have never had a better client experience."
"You're Treated As If You're the Only Client."
- Jennifer Stachel Van Whiting
"I can't speak highly enough about Robert. He knows his stuff. Regarding SEO, I definitely recommend him. He won't let you down. He is knowledgeable and innovative. My business is in NYC which is extremely competitive, and he constantly improves and tries new strategies to increase my rankings. Moreover, he is very personable, works to achieve your individual goals and in general, is great to work with. He is persistent, diligent and dedicated. He treats you as if you are his only client although he has many. As his client, he definitely strives to satisfy your SEO goals."